Bryan Nash | Aug 09, 2012 | Comments 0 |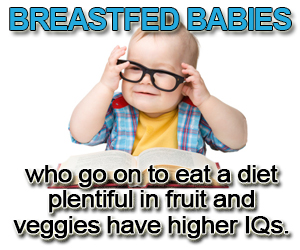 The quality of the food children eat early in life can affect the quality of their learning. A new study suggests that kids who eat healthier food will have a higher IQ, while their junk-food-eating friends will acquire less knowledge.
In this research, scientists at the University of Adelaide, in Australia, kept track of the eating habits of kids at 6 months, 15 months and 2 years. They then tested the children's IQ when they were 8 years old.
"Diet supplies the nutrients needed for the development of brain tissues in the first two years of life, and the aim of this study was to look at what impact diet would have on children's IQs," says lead author Lisa Smothers. "Those children who had a diet regularly involving biscuits, chocolate, sweets, soft drinks and chips in the first two years of life had IQs up to two points lower by age eight.
"We found that children who were breastfed at six months and had a healthy diet regularly including foods such as legumes, cheese, fruit and vegetables at 15 and 24 months, had an IQ up to two points higher by age eight."
Filed Under: Alternative Medicine • Brain Health • Easy Health Options News • Mind & Body • Nutrition
About the Author: Bryan Nash Staff writer Bryan Nash has devoted much of his life to searching for the truth behind the lies that the masses never question. He is currently pursuing a Master's of Divinity and is the author of The Messiah's Misfits, Things Unseen and The Backpack Guide to Surviving the University. He has also been a regular contributor to the magazine Biblical Insights.