Even with all the worries that have come with the coronavirus pandemic, it has also brought about positive changes. We're spending more time at home with our immediate family members — time I personally treasure — and we're being reminded that we should never take health for granted.
But there's no doubt the quarantine can affect our mood at times.
If lockdown has you wondering the best ways to stay healthy and improve your well-being, you're not alone. We're here to help with the top seven ways to improve your physical and mental health both during and after quarantine:
#1 — Eat more nuts
One thing coronavirus has shown us is that heart problems can skyrocket your chances of severe health problems and even death from viruses that sweep through the population.
To focus on your heart health so that you can be better able to enjoy your life for years to come, scientific studies agree… eat more nuts!
Related: Eating nuts strengthens your brain waves
One study reported by the American Heart Association found that people with type 2 diabetes who ate five servings of tree nuts per week reduced their risk of heart disease by 17 percent. The research also found that even small changes can make a difference, with each additional serving of nuts weekly delivering a 3 percent lower risk of cardiovascular disease diagnosis and 6 percent lower risk of cardiovascular disease death.
And a second study that looked specifically at walnuts discovered that people who regularly ate them, as part of a low-fat diet, lowered their blood pressure more than those who ate a low-fat diet alone.
#2 — Add fermented foods
Researchers have long known that your brain sends signals to your gut, which is why stress and other emotions can contribute to your gastrointestinal symptoms. But studies have also shown that signals travel the opposite way as well, allowing your gut to affect your brain.
Fermented foods are one of the richest sources of probiotic bacteria, tiny microorganisms that populate your gut and keep it in balance.
A study showed that eating fermented food can reduce constipation, increase colorectal health, support brain health, support immune system function and reduce cholesterol.
Clearly there's a lot of health benefits wrapped up in fermentation!
Related: Fix your gut, fix your mood
Fermented food and drinks to try. If you don't like one, you're sure to find another that hits your taste buds just right:
Kimchi
Sauerkraut
Kefir
Kombucha
Tempeh
#3 — Wake up with lemon water
According to the Cleveland Clinic, the best way to start each day is with a glass of warm lemon water.
Internal medicine specialist Roxanne B. Sukol, M.D., MS says that the habit will not only help you stay hydrated and aid in digestion, lemon water supplies a healthy dose of vitamin C for your immune system and potassium for blood pressure management.
Related: The health benefits of lemons
Additionally, the tart morning treat is weight-loss-friendly and can help you prevent painful kidney stones.
#4 — Eat less sugar
Although the coronavirus pandemic has many people reaching for the doughnuts, cookies and ice cream as a way to feel better, going for the sugar could be causing the exact opposite results and destroying both your physical and mental well-being.
Related: 5 energy sources without the downside of a sugar rush
Mentally, eating refined sugar is linked to depression, irritability, fatigue, forgetfulness and insomnia. Physically, eating too much sugar can lead to weight gain and an increased risk of heart disease, diabetes and even cancer.
To top it off, eating sugar can even make you look older by accelerating your skin's aging process!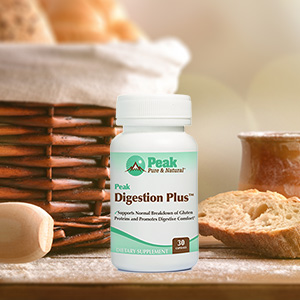 Peak Digestion Plus™
Works quickly to soothe stomach upset, eliminates unwanted impacts from food sensitivity, and boosts the health of your gut.
#5 — Turn down the thermostat at night
Getting the quality rest you need each night is important to staying healthy. The temperature in your bedroom could be key to some big benefits as well.
Research found that people who set the thermostat to 66 degrees at night boosted their levels of brown fat — the type that helps lower blood glucose while upping your metabolism. This could mean you fight diabetes and boost weight loss while you sleep!
#6 — Spend time with friends
Having more friends can help you live healthier and longer. And while you might not be able to spend time with them in person right now, why not jump on a video chat or phone call to reconnect?
Related: Why friendship is as important as diet and exercise
A study published in the Journal of Epidemiology and Community Health that followed 1,477 older participants found that those who had the most friends lived on average 22 percent longer than individuals with the fewest friends.
#7 — Get outdoors
Whether it's taking a walk, riding your bike, going for a swim or just spending time in your garden, time outside means improved physical and mental well-being.
How much time in the great outdoors is enough?
According to a study published in Scientific Reports, at least two hours per week in nature is suggested for optimal health and well-being.
Putting it all together
Now more than ever, we should all focus on the small things we can do on a daily basis to stay happy and healthy — things we can continue once quarantine is over.
Use the tips above to boost your mental and physical well-being to come out of lockdown stronger, happier and healthier.
Sources: