9 hand sanitizer brands that contain a life-threatening toxin
Since we're living through the worst pandemic in over 100 years, most of us are using a lot of hand sanitizer… even if we don't normally touch the stuff.
I've always been someone who avoided hand sanitizer because I know, just like antibiotics, it kills the good microbes along with the bad ones. But I'm a firm believer in weighing the benefits and risks of the choices you make for your health. And right now, I'd prefer to use hand sanitizer to decrease my odds of getting COVID-19, even if it means killing off some of the healthy bacteria on my skin.
Now, make no mistake, I'll always choose soap and water over hand sanitizer when I can. It's more effective at protecting you from COVID-19, and it's less damaging to your skin. But I've accepted hand sanitizer as a part of my life in a post-COVID-19 world. If you have too, there's something you should know…
Related: 6 small things to do each day to avoid coronavirus
Some brands of hand sanitizer contain a toxic ingredient that's incredibly dangerous for your health. In fact, it's so dangerous the FDA has issued a warning to prevent you from inadvertently picking these hand sanitizer brands up on your next shopping trip.
Hand sanitizer brands that contain dangerous methanol
The FDA recently warned consumers not to buy nine brands of hand sanitizer because they contain a toxic ingredient — methanol (also known as wood alcohol).
Methanol can be incredibly dangerous when ingested or absorbed through your skin. If you're exposed to high enough amounts, it can cause nausea, vomiting, headache, blurred vision, permanent blindness, seizures, coma, permanent damage to the nervous system and even death.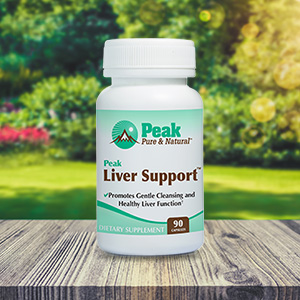 Peak Liver Support™
Specially formulated to give your liver the optimum nutrients it needs to help the body support detoxification for improved health.
All nine brands of hand sanitizer that contain this ingredient were manufactured by the Mexican company Eskbiochem SA. Here's a complete list of them:
All-Clean Hand Sanitizer (NDC: 74589-002-01)
Esk Biochem Hand Sanitizer (NDC: 74589-007-01)
CleanCare NoGerm Advanced Hand Sanitizer 75% Alcohol (NDC: 74589-008-04)
Lavar 70 Gel Hand Sanitizer (NDC: 74589-006-01)
The Good Gel Antibacterial Gel Hand Sanitizer (NDC: 74589-010-10)
CleanCare NoGerm Advanced Hand Sanitizer 80% Alcohol (NDC: 74589-005-03)
CleanCare NoGerm Advanced Hand Sanitizer 75% Alcohol (NDC: 74589-009-01)
CleanCare NoGerm Advanced Hand Sanitizer 80% Alcohol (NDC: 74589-003-01)
Saniderm Advanced Hand Sanitizer (NDC: 74589-001-01)
Some of these brands contain far more methanol than others. Lavar Gel, for example, contains 81 percent methanol. CleanCare No Germ, on the other hand, contains 28 percent methanol. But methanol isn't an ingredient that should be in hand sanitizer at any concentration. So, if you've used any of these brands of hand sanitizer seek medical attention immediately.
Get your hands on safer hand sanitizer
Hopefully, you haven't inadvertently purchased any of these dangerous brands of hand sanitizer. If you have, after visiting your doctor, you'll want to dispose of it in a hazardous waste container… because it's that dangerous.
Then you'll obviously want to replace it with something safer. There are plenty of natural and organic hand sanitizers on the market that contain far better ingredients than a lot of what you'll find on grocery store shelves. Or if you really want to know exactly what's going into your hand sanitizer, consider making your own. Here's a recipe for safe and effective hand sanitizer that can help keep you safe during this crazy time.
Sources: