Watch out for these glyphosate-containing hummus brands
It's been quite some time since I've written about glyphosate, the main chemical ingredient in the widely used weedkiller, Roundup.
It's been a while since I reported to you about how Monsanto, the manufacturer of Roundup, covered up the presence of this poison in at least five brands of orange juice.
But glyphosate hasn't gone away.
I'm sorry to report that the Environmental Working Group has discovered that this toxic chemical is present in yet another otherwise healthy food…
EPA says not a danger, but science disagrees
The website of the U.S. Environmental Protection Agency (EPA) states that its mission is "to protect human health and the environment."
And yet, the EPA stands by its claim that glyphosate is not a danger to human beings.
An April 2019 news release states that "the EPA continues to find that there are no risks to public health when glyphosate is used in accordance with its current label and that glyphosate is not a carcinogen."
Around the same time, researchers at the University of Washington conducted a comprehensive review of the literature regarding glyphosate exposure and cancer, which included studies from 2011 through 2018.
Their findings?
People exposed to high levels of glyphosate have a 41 percent higher risk of developing non-Hodgkin lymphoma (NHL), a cancer that starts in the white blood cells.
Now, a consumer advocacy group well-known for protecting our health has found glyphosate in one of our favorite health foods.
EWG finds glyphosate in hummus
The Environmental Working Group (EWG) has found glyphosate in hummus and in the chickpeas from which hummus is made.
Independent lab tests commissioned by the EWG discovered the poison in more than 90 percent of non-organic chickpea and hummus samples.
Organic samples were tested as well. One sample of organic chickpea had the highest level of glyphosate of all the samples tested.
Since glyphosate use is not permitted on organic crops, these samples were likely contaminated by chemical drifting from nearby non-organic crop fields.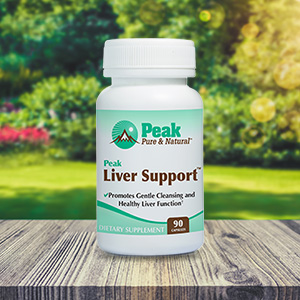 Peak Liver Support™
Specially formulated to give your liver the optimum nutrients it needs to help the body support detoxification for improved health.
The following are some of the brands that were tested and found to exceed the EWG's acceptable levels for the chemical, measured at parts per billion (although they were all considered well within limits by the EPA):
Whole Foods Market Original Hummus 442-2,379 ppb
Sabra Classic Hummus 285-743 ppb
Sabra Roasted Pine Nut Hummus 349 ppb
Cava Traditional Hummus 224 ppb
Harris Teeter Fresh Foods Market Traditional Artisan Hummus 1,290-1,618 ppb
How to avoid glyphosate
When it comes to your hummus, choose from the brands that tested at the lowest levels. Those include:
The Perfect Pita Traditional Hummus: 0 ppb
O Organics Traditional Hummus (Albertsons store brand): 0 ppb
Asmar's Original Hommus: 0 ppb
Park Street Deli Hummus Classic (Aldi exclusive): 7 ppb
Simple Truth Organic Garlic Hummus (Kroger brand): 8 ppb
Good & Gather Roasted Garlic Hummus (Target store brand): 8 ppb
When it comes to avoiding glyphosate in other sources, start here:
Switch to Certified Organic foods. If you're really looking to clean up your diet, this is the way to go. Sure, organic foods are a bit more expensive, but they can quite literally save your life.
Buy your produce locally. You might consider buying your fruits and vegetables from the local farmer's market. Just make sure you ask the farmers about the kinds of pesticides they use.
Check for glyphosate-free labeling. As the public becomes more aware of the dangers of glyphosate, non-profit groups and activists have joined forces to create a specific label for glyphosate-residue-free foods and products.
This labeling is not common yet. You may need to do a bit of digging and online shopping to find foods that have the label.
Look for products with the non-GMO Project verification label. While these foods may not be 100 percent glyphosate-free, they are a step better than your average processed foods as far as levels of chemicals they contain.
And no matter what, always wash your produce thoroughly before eating or cooking with it. For added protection, peel off the outer layer.
Sources: