Conditions scientifically shown to benefit from chiropractic care
Many people simply don't realize how well trained chiropractors are and how many conditions they can help.
In fact, most people don't know that just like medical doctors, chiropractors are required to complete years of school beyond their initial college degrees — including much of the same curriculum used in medical schools across the country, from gross anatomy (even dissection of a human body) to extensive courses in biochemistry, obstetrics and gynecology and more.
Like medical doctors, chiropractors are also required to complete an internship before being granted their diplomas and licenses to practice.
This results in doctors who are very good at making a correct diagnosis of spinal column-related injuries and ailment… and who probably have more expertise in this area than medical doctors.
And while many still don't think of heading to the chiropractor when they've been injured, scientific literature backs up chiropractic as a natural, safe and extremely effective option for the treatment of a number of conditions.
Conditions a chiropractic adjustment can help
#1 — Neck pain
Neck injury due to car accidents is usually managed first by an emergency room doctor. This allows more dangerous issues like fractures to be ruled out and ensure that you don't require surgery. Once they've decided you're in the clear, they'll let you head home and recommend ice, rest and pain relievers.
Yet, science tells us that even in a very minor car accident, there will still be damage — that can't be seen on x-rays — to your soft tissues (ligaments and muscles) as well as to the facet joints of your spinal vertebrae.
And evidence is mounting that early spinal adjustments performed by a chiropractor have the power to enhance recovery far more than the conventional approach of rest and pain medicine.
#2 — Low back pain
Low back pain is another common condition that can be effectively and safely treated by a chiropractor. In fact, a 2000 study reported in the Journal of Manipulative and Physiological Therapeutics found that, "Patients with chronic low back pain treated by chiropractors show greater improvement and satisfaction (90 percent vs. 52 percent) at one month than patients treated by family physicians."
The study even found that chiropractic patients experience greater relief from low back pain (56%) than people who were treated by medical doctors at only 13 percent.
When it comes to chronic low back pain, chiropractic care wins by a large margin.
The relief you get from low back pain thanks to chiropractic care might be more long lasting as well. A study published in the Journal of Manipulative and Physiological Therapeutics found that pain scores were lower for chiropractic patients than for medical patients with chronic and acute low back pain up to one year following treatment.
And while a literature synthesis of 64 randomized clinical trials and 13 meta-analyses found that chiropractic is more effective at reducing chronic low back pain than acute (recent) back injuries, it is effective for both conditions.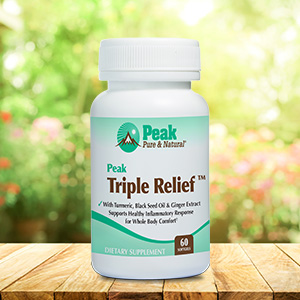 Peak Triple Relief™
Peak Triple Relief™ with vitamin D3 supports a healthy inflammatory response for natural, soothing relief from body aches and discomfort
#3 — Conditions of the upper and lower extremities
About 20 percent of all chiropractic visits are for conditions of the upper and lower extremities and the science says that it's working!
A clinical trial that looked at the effectiveness of manipulative therapy for these conditions found that among those receiving chiropractic care, twice as many reported complete recovery compared to medical treatment alone over a three-month timeframe.
Just a few of the lower extremity conditions that chiropractic may help include:
Knee osteoarthritis
Patellofemoral pain syndrome
Ankle sprain
Hip osteoarthritis
#4 — Non-musculoskeletal conditions
While you might not think of chiropractic as anything more than a way to care for your spine and other joints, scientific studies are also showing the modality has a place in maintaining your overall health and well-being too.
Studies show that having your atlas (your first cervical vertebra) adjusted can result in significant and sustained reductions in blood pressure at the same level as using two prescription medications combined.
A systematic literature review of 179 published papers on chiropractic care for non-musculoskeletal conditions found it to be beneficial for:
Asthma
Vertigo (cervical spine-related)
Infantile colic
And it was found to have potential benefits for otitis media (middle ear infection) in children and pneumonia in the elderly.
Safe, natural, effective
So if you're living with any of the above conditions that have been scientifically proven to benefit from chiropractic care, make an appointment today. Chiropractic is a natural, medication-free, nonsurgical form of health care that can help not only ease your pain but improve your health.
Sources: