I don't know about you, but I'm getting ready for smoothie season!
I know some people drink them all year, but winter where I live is way too cold for me to really enjoy an ice-cold smoothie.
But spring has finally arrived in Maine. Windows are open, and it's warm (most of the time, and if you stand in the sun!).
Right now, I'm focusing on superfood combinations that can boost my immune system and tame inflammation. Both will lower my chances of a COVID-19 infection, or any infection, for that matter.
So, I'd like to share five of my favorite superfood smoothie recipes with you.
Anti-inflammatory recipes
Inflammation can be both your friend and your enemy. On the one hand, your body needs inflammation to defend itself from infection and injury.
But chronic inflammation can lead to obesity, heart disease and diabetes, not to mention the specter of a cytokine storm that can be a deadly inflammatory complication of COVID-19.
Now more than ever, we need ways to take control of chronic inflammation. Here are a few delicious ways to start.
Blueberry protein shake
Blueberries might just be the original superfood. They're rich in antioxidants called flavonoids that fight inflammation.
Ingredients:
1 ½ c. coconut or almond milk
1 c. frozen blueberries
½ banana or ½ of an avocado
¼ tsp. cinnamon
crushed ice (optional)
Add all ingredients to a blender and blend on high until smooth.
Dark chocolate cherry protein smoothie
Like blueberries, dark cherries are rich in anti-inflammatory anthocyanins.
Ingredients:
1 Tbsp. raw cacao powder
1 c. unsweetened almond or coconut milk
1 frozen banana
2 or 3 pitted Medjool dates
1 c. frozen dark sweet cherries
3-5 ice cubes
Add all ingredients to a blender and blend on high until smooth.
Related: Cacao—The superfood to beat statins
Mulled pomegranate juice
I've yet to try this one, but I think I'll try it soon as a morning beverage, while the weather is still cool. It will make the house smell delicious for hours!
Ingredients:
4 c. pomegranate juice
1 cinnamon stick
10-12 cloves
1 sprig fresh rosemary
½ orange, sliced
In a large saucepan, add the pomegranate juice, then the cinnamon, cloves, rosemary and orange slices. Bring to a simmer, then turn off the heat, cover, and let the mixture sit and infuse for 30 to 60 minutes. Strain off "chunky bits" by pouring through a strainer into a serving pitcher. Add one drop of lemon or orange essential oil and stir to combine.
Related: 5 ways pomegranates heal your body
Immune-boosting recipes
It stands to reason that you'd want your immune system to be as strong as possible right now… and not just to avoid COVID-19. Staying healthy in general and avoiding other respiratory ailments will drastically lower your chances of having a serious case if you do come into contact with the virus.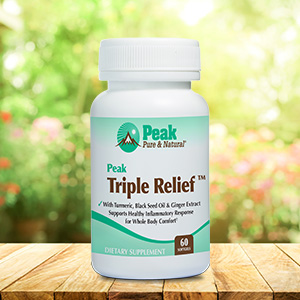 Peak Triple Relief™
Peak Triple Relief™ with vitamin D3 supports a healthy inflammatory response for natural, soothing relief from body aches and discomfort
Avocado power smoothie
Avocados are a good source of glutathione, known as the "master antioxidant." It attracts toxins and helps eliminate them from the body, and can also be found in cruciferous vegetables like broccoli, Brussels sprouts and kale.
Ingredients:
1 small avocado or ½ large (skin and pit removed)
½ medium cucumber, quartered
1 large handful of fresh kale or spinach
½ small apple, cored and chopped
1 c. water
Add all ingredients to a blender and blend on high until smooth.
Related: 4 reasons to start eating apples the RIGHT way
Orange immune-boosting smoothie
This is a recipe I adjust for flavor and consistency each time I make it. It's got turmeric and plenty of vitamin C, both well known for powering up the body's immune response.
Ingredients:
1 carrot, chopped
1 banana
1 clementine
¼ tsp. ginger
¼ cup orange juice
½ tsp.lemon juice
¼ tsp. turmeric
¼ tsp. cinnamon
½ plain Greek yogurt
3-5 ice cubes
Load all ingredients into a blender and blend at high speed until well blended. Add more ice to make it thicker. You can also add some honey or pure maple syrup to sweeten it up.
Sources:
8 foods that reduce inflammation — Geisinger Health
Tart Cherry Extracts Reduce Inflammatory and Oxidative Stress Signaling in Microglial Cells — Antioxidants (Basel)
Understanding and Managing Chronic Inflammation — Healthline