Reduce COVID-19 anxiety and depression with these free apps
Feeling anxious, down or lonely in the midst of the COVID-19 pandemic?
If so, you're not alone.
According to experts, the percentage of Americans suffering from anxiety and depression may have tripled since the lockdown started.
And it's easy to see why…
On top of the worry that you may yourself contract COVID-19, you're also faced with the isolation of social distancing and wondering whether you'll be able to safely spend time with friends and extended family members in person again.
But there is a way to feel better.
A new study has found that a collection of apps that are free to download can help significantly reduce your stress and anxiety so that you can get back to your pre-lockdown self, even if you can't leave the house just yet.
Reduces anxiety and depression by approximately 60%
Researchers at Northwestern Medicine specifically looked at a collection of mobile apps called IntelliCare, which happen to be completely free to download in the Apple and Android stores.
And they found that people who used the apps over a period of eight weeks showed significantly greater improvements in depression and anxiety compared to the control group.
In fact, the level of improvement that was seen in anxiety and depression was a whopping 60 percent, which is similar to what you could expect with traditional psychotherapy — without even leaving your house.
And once the control group received the same intervention, their depression and anxiety decreased, too.
The researchers say that it's also important to note that even once the study was complete, participants chose to continue to use the IntelliCare apps — unlike other mental health apps that people often stop using before treatment even ends.
So this could be a sign that they not only work, but are also easy to use and incorporate into your daily life.
How the apps can help
They offer short exercises to de-stress and reduce worrying, methods to help your life feel more meaningful, mantras to highlight your strengths, strategies for keeping up with daily activities (even during the pandemic) and more.
For example, if you spend a lot of time worried that you're going to get sick with COVID-19, you could find that you feel anxious and are starting to see a trickle-down effect in your daily activities.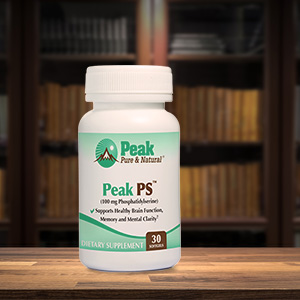 Peak PS™
Peak PS™ is Natural Support for Memory and Cognitive Function Containing Soy-Free Phosphatidylserine – One of the Most Tested Nutrients for Brain Health and Memory!
To combat that negative thinking, you can go to the Thought Challenger app and turn those negative thoughts into more positive or realistic ones by questioning whether or not your thoughts are 100 percent true.
And then it can help you come up with ways to feel more in control such as remembering that there are many things you can do to stay healthy, like washing your hands.
So if you're feeling stress or down these days, consider downloading and using the IntelliCare apps to feel up to 60 percent better.
7 additional tips for better mental health
In addition to using these apps, here are 10 more tips you can use to boost your mental health right now:
#1 — Give yourself a break
Remember that what you're going through is challenging, and practice kindness toward yourself. Allow yourself to feel the negative emotions, but remind yourself of the good as well.
#2 — Be kind to others
Social distancing creates massive amounts of stress, and, as we've all seen in the news, stress can lead to sometimes violent confrontations. Work hard to notice the good things around you, and put kindness into a world that so badly needs it right now.
#3 — Try a nootropic supplement
Nootropic supplements are helpful for brain health. Many people rely on them to help boost concentration and cognition, but they are also helpful with mood level and anxiety. One in particular, phosphatidylserine, helps blunt the effects of stress and anxiety by decreasing blood levels of the stress hormones ACTH, cortisol, epinephrine and norepinephrine.
#4 — Maintain a routine
Routines help us feel in control of our lives. Anything from getting dressed in the morning to maintaining a regular bedtime makes a difference… so create a routine and stick to it.
#5 — Get quality sleep
Sleep is vital to calming anxiety and boosting immune system function. When you're deciding on your sleep schedule, be sure to allow for a good eight hours of quality rest each night.
#6 — Practice healthy habits
Sticking to a balanced eating plan and getting regular physical activity will help you feel better body and soul.
#7 — Turn off the news
It can be tempting to spend all day wrapped up in the latest news about the pandemic, but this can leave you more stressed and worried than ever. When you feel anxiety or depression creeping in, switch off the news.
Sources:
App helps COVID anxiety, depression — EurekAlert!
The strange way COVID attacked my brain and how I'm beating it — Easy Health Options