I'm not much of a drinker. But if I was, there's a popular brunch cocktail that would be right up my alley — a Bloody Mary.
The tart lemon. The tang of Worcestershire sauce. The kick of hot sauce. It all makes my mouth water. And then, of course, there's the crux of the whole cocktail — tomato juice.
I've always loved tomato juice. Even as a kid, I could chug down a can of V8 no problem (I was a strange kid).
But I didn't know until recently that this earthy, savory (sometimes even sweet) beverage could tackle a serious health problem that affects 75 million people — high blood pressure.
And you know what else? It battles high LDL (bad) cholesterol too!
Tomato juice helps with hypertension and high cholesterol
Researchers at Tokyo Medical and Dental University found that drinking tomato juice can lower blood pressure in people with hypertension and prehypertension.
The study included 184 men and 297 women who were given unsalted tomato juice and told to drink as much as they wanted for a year. Within this group, there were 94 people with untreated prehypertension or hypertension. And guess what happened to this group by the end of the year?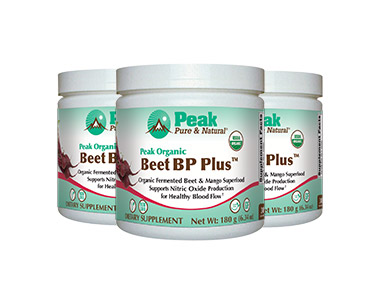 Peak Beet BP Plus™
Delicious, organic fermented Beet and Mango superfood drink supports nitric oxide production for healthy blood flow and blood pressure!
Their blood pressure dropped significantly!
Systolic blood pressure fell from 141.2 mmHg on average to 137.0 mmHg on average. Diastolic blood pressure dropped from 83.3 mmHg on average to 80.9 mmHg on average. But people with BP problems weren't the only ones who benefitted from drinking more tomato juice…
There were also 125 people in the study with high cholesterol. By the end of the study, their cholesterol decreased from an average of 155.0 mg/dL to an average 149.9 mg/dL.
So, if you struggle with high BP or high cholesterol start chugging the tomato juice!
Choosing the healthiest tomato juice
If you're more of a drinker than me, I bet this study will inspire you to order a Bloody Mary next time you go out to brunch.
Of course, the negative effects of alcohol would likely counteract the positive effect of tomato juice. So, why not make it a Virgin Mary?
In fact, I think I'll order one of those myself next time I'm enjoying a delicious arugula eggs benedict on the patio of my favorite brunch restaurant.
But there's one important thing to remember…
In the study, people drank unsalted tomato juice. Traditional tomato juice (like V8) contains a heck of a lot of sodium. And eating (or, in this case, drinking) too much sodium can send your BP soaring. So, make sure to choose the salt-free stuff.
While you're at it, you might as well go organic. Tomatoes were on the 2020 Dirty Dozen list, after all. So why subject yourself to all those pesticides?
If you follow these simple rules, you can drink tomato juice until your heart's content (and your heart will be very content — and healthy — if you get your BP and cholesterol down). That's what people in this study did, and look how it worked out for them?

Editor's note: Scientists discovered that glial cells in your brain actually make cholesterol to help your neurons create connections with one another. Your ability to think, form memories and learn — and yes, ALL of your mental functions — are dependent on this process happening smoothly. However, statin drugs harm your glial cells and hinder cholesterol production. To learn more about the statin danger to your brain, click here!

Sources:
High Blood Pressure Frequently Asked Questions (FAQs) — Centers for Disease Control and Prevention
Unsalted tomato juice intake improves blood pressure and serum low‐density lipoprotein cholesterol level in local Japanese residents at risk of cardiovascular disease — Food Science & Nutrition
Unsalted tomato juice may help lower heart disease risk — MedicalXpress