It might be hard to believe it, but spring is on its way. You know what that means…
Summer isn't far behind either. Or the bugs that come with the season.
Not to sound paranoid or anything, but my biggest concern when I get out to enjoy the warm outdoors is not snakes… it's ticks.
For good reason. The bite of some species of ticks carries the bacterium Borrelia burgdorferi, responsible for what might be considered a silent plague…
More than 300,000 new cases of Lyme disease are reported each year in the U.S. And other than long-term antibiotic therapy — which the medical community admits is not always effective — there isn't much else available that your doctor can offer.
That leaves a lot of Lyme disease victims suffering from debilitating fatigue, joint pains, memory problems, facial paralysis, aches, stiffness in the neck, heart palpitations, and severe headaches — for life.
But there may be light at the end of the tunnel…
That's because the treatment of Lyme disease is at least one area where the medical community may be forced to realize the benefit of alternative treatments.
Natural extracts that fight Lyme disease
The impressive likes of the Johns Hopkins Bloomberg School of Public Health, with colleagues at the California Center for Functional Medicine and Focus Health, surveyed the power of 14 plant-based extracts to kill Borrelia burgdorferi, compared to the antibiotics doxycycline and cefuroxime currently used in Lyme disease treatment.
What they found was downright impressive…
The researchers show that plant extracts from black walnut, cat's claw, sweet wormwood, Mediterranean rockrose, and Chinese skullcap had strong activity against B. burgdorferi, outperforming both tested antibiotics.
But by far the strongest performers were Ghanaian quinine (Cryptolepis sanguinolenta; also known as yellow-dye root, nibima, or kadze) and Japanese knotweed (Polygonum cuspidatum).
Related: The sweet solution to Lyme disease
Ghanaian quinine is a shrub from West Africa containing the antimicrobial alkaloid cryptolepine and is used in ethnomedicine to treat malaria, hepatitis, septicemia, and tuberculosis.
Japanese knotweed is a traditional medicine in India and China that contains the polyphenol resveratrol. In other preclinical studies, it has been found to have anti-tumor and anti-inflammatory effects and protect the nervous system and heart.
Extracts from both plants were found to kill microcolonies of Borrelia burgdorferi and inhibit the division of the planktonic form, even at low concentrations (0.03-0.5 percent). In fact, just a single 7-day treatment with 1 percent Ghanaian quinine could completely eradicate the bacterium. Amazingly, it did not regrow, even under optimal conditions.
Resveratrol: The power behind Japanese knotweed
Of course, I don't know if using supplements with these natural extracts would work to ward off Lyme disease. It's certainly great news for people living with Lyme disease if they can get with a natural health practitioner that can help them safely use them to improve their health.
But you know me. I am a fan of supplementing and discovered something very interesting about Japanese knotweed…
Since the study report mentioned it contains resveratrol, something I already strive to get in my diet, I did a little more research and found out that many resveratrol supplements source their resveratrol from Japanese knotweed.
So if someone like me — who plans to spend a lot of time outdoors — wants to feel like I'm doing something that could lessen my risk of contracting Lyme (in addition to wearing lightweight clothing to my ankles and wrists), would choosing a resveratrol supplement that contains Japanese knotweed make sense?
I'm going to take resveratrol anyway, so why the heck not?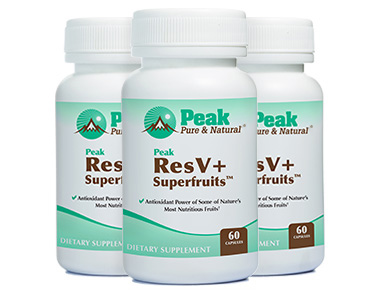 Peak ResV+ Superfruits™
Loaded with potent antioxidants to fight free radicals, support immunity, brain and heart health.
Now you may not find Japanese knotweed listed as an ingredient on the back panel of your resveratrol supplement (I looked!), though.
But you would see it as Polygonum cuspitadum. And according to the information I read at examine.com — an independent educational organization that analyzes nutrition and supplement research — most of the benefits attributed to Japanese knotweed may actually just be benefits of its resveratrol content.
I believe resveratrol is one of the most important nutrients anyone can supplement. There are mountains of research behind it. And I, for one, am thrilled to see it could be a big help in the fight against Lyme disease.
Stay safe this summer!
Source: