Depression and anxiety are well-known risk factors for the development of Alzheimer's disease. Now, a recent new study has shown that simply falling into a pattern of repetitive negative thoughts could raise your dementia risk even higher — proof positive of the power of thought on the mind and body.
But just how powerfully can thoughts — at least negative ones — affect your brain?
This latest research shows they're capable of leaving physical marks on the brain directly linked to Alzheimer's…
Persistent negative thinking patterns and cognitive decline
The study, conducted by the Alzheimer's Society and led by researchers from University College London, looked at cognitive decline and dementia risk in people over the age of 55.
The researchers followed 360 people for a period of two years. The team assessed repeated negative thinking patterns — like worrying about the past and future — depression and anxiety symptoms and assessed cognitive function (including memory and attention).
Participants even underwent brain scans to measure the proteins tau and amyloid (which cause the most common types of both dementia and Alzheimer's).
And here's what the researchers found…
While the research bore out the fact that depression and anxiety alone were both associated with cognitive decline — people who exhibited higher patterns of persistent negative thinking experienced higher levels of cognitive decline and declines in memory (one of the earliest signs of Alzheimer's).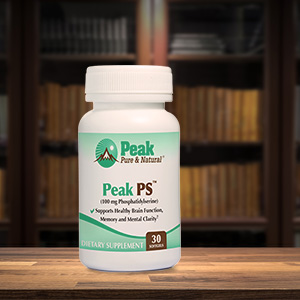 Peak PS™
Peak PS™ is Natural Support for Memory and Cognitive Function Containing Soy-Free Phosphatidylserine – One of the Most Tested Nutrients for Brain Health and Memory!
And the striking reason why? They were also more likely to have amyloid and tau deposits in their brain.
In other words, simply getting stuck in a negative thought pattern could cause you to develop those marks on your brain that are the telltale precursor to developing Alzheimer's.
The possible link
But why? How in the world does living with negative thought patterns lead to dementia?
Well, the researchers say that those negative thoughts could contribute to Alzheimer's risk via their impact on indicators of stress like high blood pressure since past studies have found that physiological stress can contribute to amyloid and tau deposition.
As co-author of the study, Dr. Gael Chételat, puts it, "Our thoughts can have a biological impact on our physical health, which might be positive or negative."
In other words, thinking stressful thoughts can lead to stress-related changes in your body and disease.
Promoting the positive
This should be especially concerning right now when so many of us are feeling scared, confused and lonely during these unstable times.
Luckily, the researchers also had a few words of wisdom that could help you feel better and beat the link between negativity and Alzheimer's.
First, they say that it's unlikely that short-term issues with negative thought patterns are linked to dementia. So, getting "unstuck" and creating a new, positive pattern could help ward off that dementia risk.
Related: Top 7 scientifically-proven benefits of gratitude
And second, it's possible that mental training practices like meditation could help down regulate the negative and promote the positive.
However, if you're not a fan of meditation, there are other tricks you can use to break those negative thought loops like:
Limit your negative time — Give yourself 10 minutes each day to think all of the negative thoughts that are running through your head and write them down. You're only allowed to review those thoughts during your next day's negative time. This allows you to control how often you stay in that "negative mode."
Limit negative input — Especially right now with all of the negativity in the news, it can really help to limit the time you spend absorbing that news, either online or on television.
Replace with a project — Pick out a project you've been wanting to complete and are excited about. Every time you think a negative thought, spend just five minutes on your project to replace negative thoughts with goal-oriented action.
Focus on gratitude — Keep a list of all your thankful for and take time to read it each day — and of course, add to it as you go.
Persistent negative thought loops could not only leave you depressed but at greater risk of cognitive decline, memory loss and Alzheimer's. Take steps now to break those thought patterns and replace them with positive thoughts and experiences to lower your risk and live brain healthy.
Sources: