The chemicals causing celiac disease
If you've been reading our posts for a while, then the dangers of pesticides and the sneaky ways they get into your home aren't news to you.
You know which fruits and vegetables have the most pesticide residue.
You know about the endocrine disruptors that hijack your health by disrupting the function of the hormones that control just about all of your bodily functions.
And you know all about the cancer-causing dangers of PFOA and its supposedly harmless substitute, GenX, both found in Teflon nonstick cookware.
But did you know that these chemicals also wreak havoc with your immune system?
Dr. Isaac Eliaz has written about the autoimmune epidemic we're seeing today, with as many as 23 million people, mostly women, suffering from more than 80 types of autoimmune diseases.
Dr. Eliaz believes that "there's increasing evidence that chronic exposure to pesticides, heavy metals, and other toxins can increase a person's risk of developing one of these disorders."
And recent research into one of them, celiac disease, is indeed pointing the finger directly at toxic chemicals as the cause.
DDT derivatives, Teflon cause greater risk, especially for women
People with the immune disorder known as celiac disease suffer a severe reaction to gluten-containing foods that damages the lining of the small intestines and leads to medical complications including malabsorption of nutrients.
Therefore, the only treatment is a gluten-free diet, with no bread, pasta or cake, says lead investigator and doctoral student Abigail Gaylord, MPH.
Previous research has suggested that the origins of celiac disease, which afflicts one in 100 adults worldwide, were largely genetic.
But a team at New York University has found that elevated levels of toxic chemicals from pesticides, nonstick cookware and flame retardants are associated with a higher risk of developing celiac disease.
The researchers examined levels of toxic chemicals in the blood of 30 children and young adults, from 3 to 21 years old, who had recently been diagnosed with celiac disease.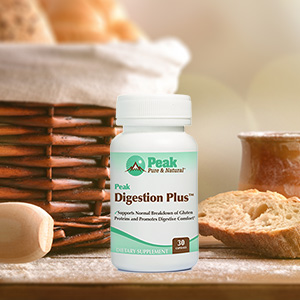 Peak Digestion Plus™
All natural digestive formula works quickly to protect you from the unwanted effects of gluten ingestion, with enzymes and probiotics that soothe digestive upset caused by common food irritants.
They found that children and young adults with high levels of a chemical family known as dichlorodiphenyldichloroethylenes (DDEs) had double the chance of being diagnosed with celiac disease, as compared to those who hadn't been exposed.
DDEs are in the same family of pesticides as DDT, famously banned from use in 1972 due to its poisonous effects on people, wildlife and the environment.
But for females, the chance of becoming gluten intolerant was eight times higher once they were exposed to DDEs.
Not only that, but females exposed to PFAs in nonstick products like Teflon were also nine times more likely to develop celiac disease.
Not the first time we've heard this

Over a decade ago, in 2009, Dr. Christine Parks, an epidemiologist with the National Institute of Environmental Health Sciences, lead a study that demonstrated how even small amounts of pesticides can be associated with autoimmune disease.
Dr. Parks wanted to find out if smaller doses of the insecticides, for example, from insect sprays used in the home, might have a similarly harmful effect to widespread, agricultural pesticides.
She and her team examined data from a previous study of almost 77,000 postmenopausal women aged 50 to 79, and determined that women who reported applying insecticides or mixing them ran a higher risk of developing lupus and arthritis than women who reported no insecticide use.
And, in 2013, a study published in the journal InterdisciplinaryToxicology showed that glyphosate, the active ingredient in Monsanto's infamous and widely used herbicide, Roundup, was the "most important causal factor" in celiac disease.
How to minimize your exposure
According to the Environmental Protection Agency, persistent organic pollutants include thousands of synthetic chemicals that were widely used during the period after World War II but are no longer in use. These include dioxin, DDT and PCBs.
They're called "persistent" for a reason. They never really go away. You may be breathing them in through dust, and they can lodge themselves in your tissues.
Related: The pesticide 1,000 times more toxic than we thought
To avoid exposure to these poisons, you should:
Open the windows every day to clear your indoor air.
Use a wet mop to get rid of dust and the persistent pollutants it can hold.
Stop using Teflon pans and opt for cast iron instead.
Try to avoid bringing products into your home that are treated with flame retardants.
Additionally,
Eat broccoli sprouts. Read more about how this superfood can help rid your body of the toxins you breathe.
Load up on B Vitamins. A Columbia University study showed that supplementing with Vitamins B6, B12, and folic acid dramatically reduced the negative impact of air pollution on DNA.
Sources: