3 health conditions that should make you think twice about surgery if you're a senior
Surgery is never something to go into lightly. It's a major event that puts your body under a lot of stress, which is why it's important to weigh the risks and benefits very carefully… especially if you're over 65.
The fact is surgery is far more dangerous for older people than younger people. Older people are more likely to have problems with anesthesia. Recovery is also more painful and prolonged because their skin takes longer to heal. And they're more likely to have long-term complications or die as a result of it.
One recent study found that people over 65 were more likely to suffer from "silent strokes" during surgery. These under-the-radar strokes cause cognitive decline, delirium and put them at risk for more serious, life-threatening strokes later. And other research shows that 20 percent of seniors who have urgent or emergency abdominal surgery die within 30 days.
All that said, there are times when you really need to have a certain surgery. So, how do you know if it's safe?
Well, you can start by making sure you don't have one of these three health conditions, which makes surgery far more dangerous…
Your physical, mental and emotional health all impact your surgical risks
Researchers from the University of California, San Francisco just conducted a study on surgical risks for older adults and they found that three common health conditions increase their risk of death after a major operation.
The study included 1,300 people who were 66 or older. They'd all had one of three types of major surgery: abdominal aortic aneurysm repair, coronary artery bypass graft or colectomy.
Going into the surgery, 90 percent of study participants were independent and didn't need help with activities like bathing, dressing, eating, using the bathroom, getting in and out of bed, and walking across the room. They also didn't need help with preparing meals, handling finances, using the phone, shopping and taking medication.
About six percent of people had dementia going into the study. Another 23 percent had cognitive impairment without dementia. And 25 percent had depression.
Researchers followed up with people a year after the procedure and found that 17 percent had died. And here's what they had in common…
They were more likely to have had poor physical function (were unable to perform daily tasks on their own), poor cognition and poor psychological well-being before surgery.
In other words, people who needed help with daily tasks, had dementia or cognitive impairment, or suffered from depression before surgery were more likely to suffer the most serious post-surgical consequence — death.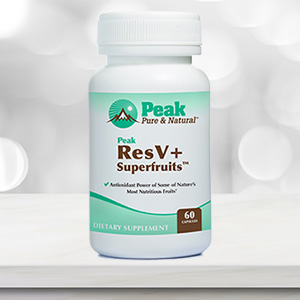 Peak ResV+ Superfruits™
The Best Way to Outsmart Father Time! Peak ResV+ Superfruits™ works to fight free radicals, support immunity, brain and heart health.
How to know if you should have surgery
Now, deciding whether to proceed with surgery is a huge, highly personal decision. But if you're over 65 — and especially if you have any of the conditions mentioned above — you (or a caregiver if dementia is the case) should have a candid conversation with your doctor about realistic risks versus benefits. Here are some questions to ask:
Am I considered a high-risk or low-risk candidate?
Are my heart and lungs ready for surgery?
What improvements to my life can I expect after recovery? Will the improvements outweigh the risks?
What alternatives are there?
Am I a good candidate for anesthesia?
What risks do I face with surgery?
How big is my risk of being put on a ventilator for an extended period?
It's also important to remember that age, physical function, dementia, and depression aren't the only factors that increase your surgical risk. You have higher anesthesia-related risks if you're:
Obese
A smoker
Dealing with sleep apnea
Clearly, there are a lot of factors to consider when deciding to have surgery. But hopefully, after talking to your doctor and taking time to reflect on what's right for you, you can make the choice that helps you live the longest, healthiest life possible.

Editor's Note
: Recently, the strongest evidence yet that tens of thousands of costly stent procedures and bypass operations each year are unnecessary for people with stable heart disease was presented to the American Heart Association. In fact, study participants who had a procedure were more likely to suffer a heart problem or die over the next year than those treated with only medicine and lifestyle interventions! Before you submit to any heart treatment, 
read this FREE report…
Sources: